We lost our dear friend and colleague, Gabe Baptiste.
This picture sums up Gabe for me – happy, full of life and a little cheeky: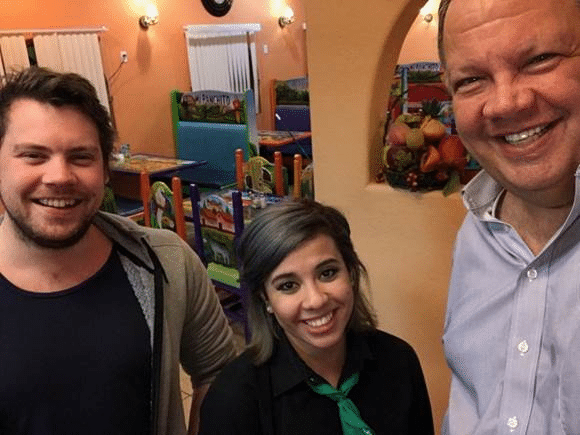 Margarita Friday Amigos – Mike Dean, Martha from Mi Ranchito's and Gabe.
Gabe was a true pro. He was a dream employee. He always put our customers first and was always looking for ways that he could make a greater contribution. He knew our business and was an amazing support guy. He was part of our plans to reboot the RCS Academy. He was involved with Spanish translations of our websites and products. He was also producing videos for our trade shows and we were talking about producing 'thousands' of training videos for support. To lose him has been devastating for everyone here. He is irreplaceable.
I had the pleasure of staying in Gabe's home recently, where he welcomed me like only a Ogallalan can. Over some cold beers he told me a great story of when he was PD at a station in Eastern Nebraska and how he had the Pearl Jam promoter print their competitor station's name and call letters on a bunch of concert tickets. On-air they made out that they'd found them in the trash out back at the competitor's studios. You can imagine how that played out.
Gabe was a true radio guy and that showed in everything he turned his hand to. We were fortunate he found his way to Ogallala so we could spend a few precious years in his company.
We will miss you Gabe. You will never be forgotten.