Media Monitors Exclusive: Female Listeners Push True Crime Category While Male Listeners Gear Towards Sports and Comedy
White Plains, NY (February 18, 2020) – Media Monitors, the leader in local media monitoring, today revealed the Top 25 Podcasts based on a recall survey. "The Joe Rogan Experience" leads the list, as expected, but other findings in Media Monitors' exclusive research of podcast listeners may surprise advertisers and content creators alike.
Large publishers with established audiences like NPR and iHeart have helped podcasting go "mainstream," but the survey results prove just how wide of a reach podcasts now have as well as shed light on the different type of listeners. In addition, the findings indicate there is significant untapped opportunity to advertise on niche podcasts that don't yet have sponsors.
"Podcasts are a new chance for advertisers to reach content-engaged millennials who might use less of the traditional media. But accurate metrics on which programs people are actually listening to have been difficult to get," said Media Monitors President and CEO Philippe Generali. "Opt-in redirects or server-based download measurements services don't tell the full story. They might be an indication of who subscribes to a show, but here, this survey asked respondents to name the shows they actually listen to, and we think the findings challenge some of the leading assumptions about podcast listeners."
Media Monitors will begin offering regular podcasting metrics in 2020 alongside other currently reported data in radio, TV, local cable, newspaper and digital.
Top 25 Podcasts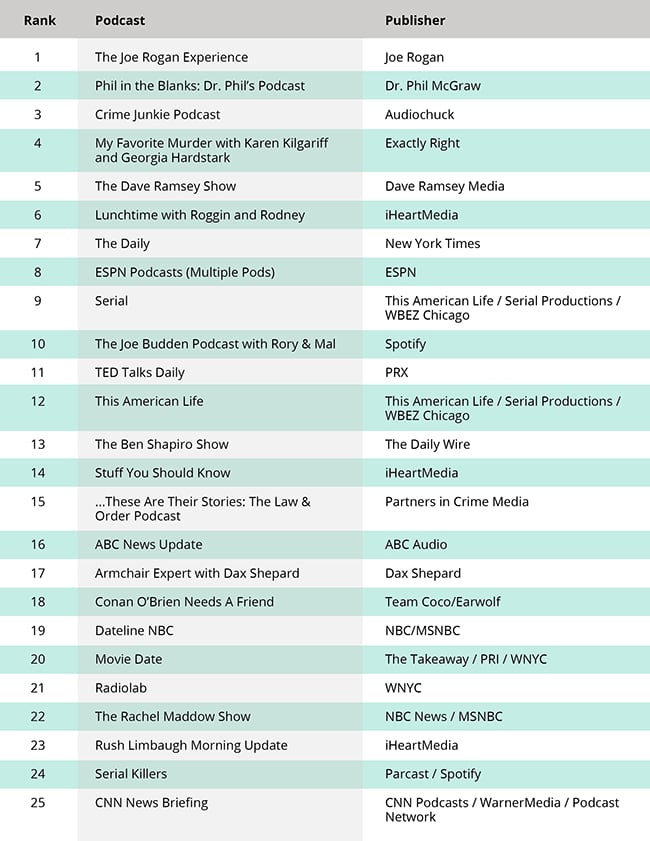 "The Joe Rogan Experience" is consistently listed among the top downloaded podcasts. While the survey results confirm the show is widely listened to, they also prove the extent of the show's virtually across-the-board popularity. The program ranks first in almost every category. It's number one among men and women, in every income bracket, among listeners of any education level and in every region. The program ranks first in every age bracket except 35-44, where it sits at number two.
iHeartMedia is first among podcast and streaming platforms, with 11 shows in the top 100 list, followed by NPR with 9. iHeart's podcasts have a wide range of categories from Sports to Comedy, Society & Culture and Self-Improvement.
The survey results demonstrate podcasts attract a more diverse audience than advertisers and content creators might expect. Listeners tend to be young, and they live in populous areas, according to the research. The true crime genre is also very popular, with two such programs among the top five.
"Women are avid listeners of true crime podcasts," Generali said. "And they are predominately driving the genre's popularity among the top 25. Men, by contrast, tend to listen to sports, news or comedy."
Among women, the top five shows are: "The Joe Rogan Experience," "Phil in the Blanks," "Crime Junkie," "My Favorite Murder with Karen Kilgariff and Georgia Hardstark," and "The Dave Ramsey Show." Men named "The Joe Rogan Experience," "ESPN," "The Daily," "Conan O'Brien Needs a Friend," and "Rush Limbaugh Morning Update" as their top shows.
The survey research also found there is significant untapped opportunity for advertising. More than half of respondents said they couldn't recall any brand advertising on the podcasts they follow. The top brand names mentioned were Geico, Squarespace, ZipRecruiter and Quip.
Keep ahead of current advertising trends with Media Monitors. Sign up today to receive news about future podcast rankings.
---
Survey Methodology
The survey was conducted by Precision Sample, a Macromill Group company, between January 5 and January 8, 2020 among respondents who indicated they had listened to podcasts in the last seven days. Survey size was a representative sample of N=961. The survey was offered to a proprietary panel of active respondents, available on both mobile (iOS and Android) and desktop (macOS & Windows) platforms. The survey asked the respondents to give unassisted answers but encouraged them to use their respective listening devices to create the list. It also provided a title lookup from Listen Notes so respondents could easily find and select podcast titles. In the advertiser section, listeners were asked to complete an unaided recall response followed by an assisted recall response.
About Media Monitors
Media Monitors is the nation's leading network and local monitoring company, serving the media and advertising industries with near real-time intelligence on radio, television, cable, print and display internet. For radio, Media Monitors is the only provider of spot occurrence data in the US. Media Monitors is accredited by the MRC for its US radio, local network and cable television spot monitoring services. Outside the US, Media Monitors tracks a variety of media in major markets including Canada, United Kingdom, Australia, India, New Zealand, Malaysia and South Africa. Media Monitors holds multiple patents for its monitoring and data modeling technologies.
Editors: interview opportunities and graphics are available. Contact Diana Stokey at Media Monitors, 914-428-4600.