Amsterdam (September 15, 2023) – On-Hertz and RCS are thrilled to announce a pioneering partnership, unveiling the groundbreaking "Go Live Studio" solution at the IBC trade show in Amsterdam. Leveraging the strength of RCS, the most successful radio automation provider in the world, this collaboration marks a significant milestone in the broadcast industry. The partnership promises to offer a resilient and flexible solution, enhancing the live capabilities of radio broadcasters globally.


About the Go Live Studio Solution
The Go Live Studio, a joint solution by On-Hertz and RCS, is designed to meet the dynamic needs of modern radio broadcasters. It leverages the robust RCS lineup to manage stations, play-out systems, and advertisement scheduling. The solution integrates seamlessly with the beloved and familiar Zetta interface, enhancing it with the On-Hertz audio mixing, processing and intuitive interface for live contributions using just a web browser.
Key benefits include:
Advanced Disaster Recovery: Ensuring uninterrupted broadcasting anytime, anywhere, the Go Live Studio stands as a robust system that guarantees broadcasters remain on air under any circumstances, safeguarding the live radio experience against unforeseen disruptions.
Live Radio Anytime, Anywhere: radio hosts can go live from a simple web browser, securing the special connection that only live radio can offer, and fostering a deeper connection with your audiences.
Premium Quality and Intuitive: operators continue to enjoy the familiar Zetta interface they already know and love. With just a simple push of a button, they can go live, leveraging On-Hertz's expertise in audio processing and contribution to deliver pristine broadcast sound, setting you apart in the industry.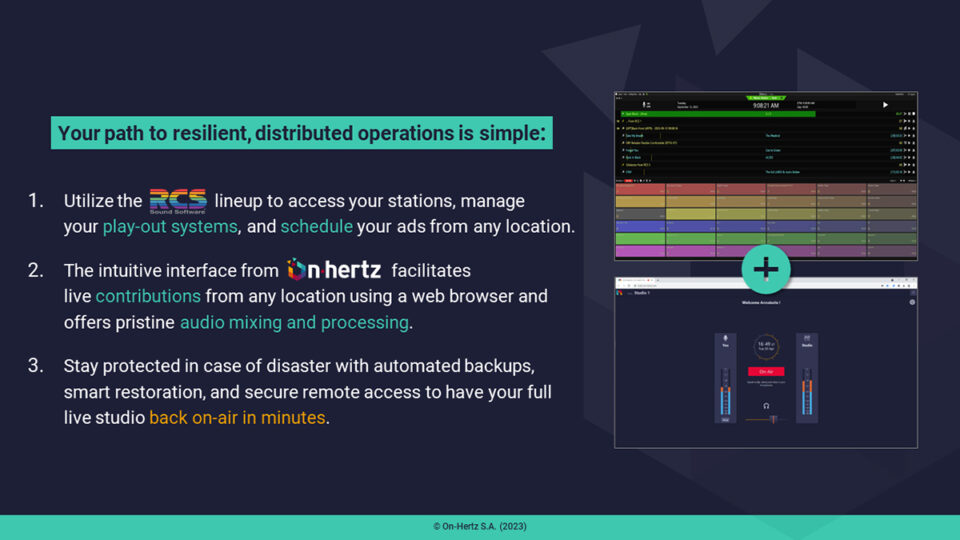 Experience the Demo at IBC 2023
Attendees at the IBC trade show can experience a demonstration of the Go Live Studio solution at the RCS booth (8C.72). The On-Hertz team will also be available at booth 10D.31a to discuss the innovative features and benefits of the solution.
In a strategic move to foster global accessibility, the "Go Live Studio" solution will be distributed by RCS, bringing this innovative solution to radio broadcasters around the globe.
---
About On-Hertz
Future-proof and amplify your broadcast production.
We are On-Hertz, pioneers in audio-first production software. Our mission is to amplify your production capabilities, enabling you to deliver outstanding live broadcasting anytime, anywhere, at any size.
To respond to the fast-paced changes in the broadcast industry, we offer a suite of elastic and distributed solutions, free from the limitations of legacy hardware environments.
Leading broadcasters trust our software to innovate their processes, reduce complexity, and increase efficiency. Our solutions and apps are easy to adopt and a breeze to use, and transform your browser into a powerful production platform.
With On-Hertz, you can future-proof and amplify your broadcast production to meet both creative and economic demands. On-premises, on-demand, and on-the-go.
About RCS
RCS is the World's Largest Broadcast Software Company with products in thousands of radio and TV stations, music channels, cable companies, ad agencies, satellite networks and streaming stations worldwide. With guaranteed reliability and 24/7 support the most respected names in the industry choose RCS as their software provider.
RCS has a proud history of innovation, currently holding 45 patents in the field of broadcasting. Inventors of computerized music scheduling with the legendary Selector, RCS continues to lead the way with multiple award-winning products such as Zetta radio automation, GSelector music scheduling, Aquira traffic, the groundbreaking 2GO series of mobile solutions and The Zetta Cloud. New to the list is Revma, an affordable and complete online professional streaming solution.
Contact
For RCS:
Diana Stokey
VP Marketing Operations & Communications
sales@rcsworks.com
For On-Hertz:
Markus Maschke
Chief Commercial Officer
sales@on-hertz.com