By Bill Webber, Product Manager
GSelector 4.7.0 was recently released on September 12. 4.7.0 has 30+ enhancements. Here is my top 5 countdown of new features in this latest version of GSelector.
#5 – Gap Time in Editor Consideration Window
There's a new Gap Time option for the Editor Test Bar. It shows the over/under for the timed segment if you were to choose the selected record in the Consideration window. Go to Editor Parameters to select the "Gap" option for the Test Bar. You can control where 'Gap" appears and also set an appearance threshold to help flag over-scheduled or unscheduled situations. In this example, if "I Want You To Want Me – Live" was selected to replace the "R.E.M." song, the hour would be 25 seconds over-scheduled.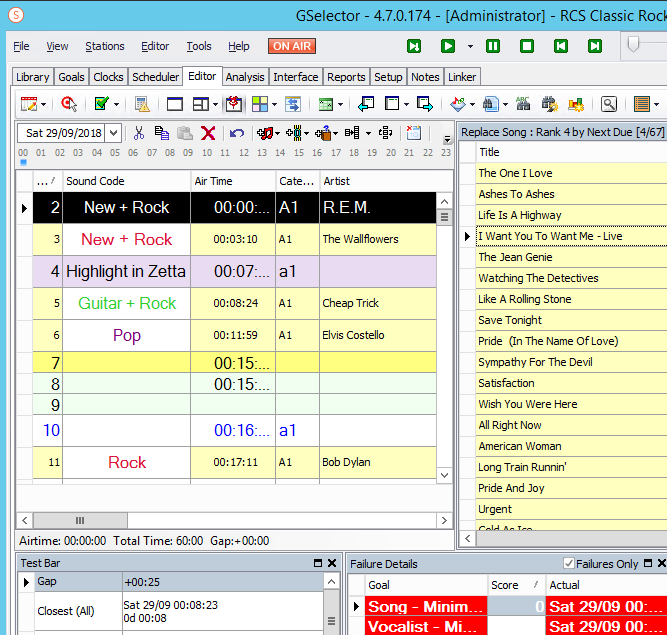 #4 – Secondary Run Dates
We've added Secondary Start/End Times to the Run Dates tab for songs and links. You can either Include or Exclude these date/time ranges. There's also a Yearly Anniversary option for each Secondary range. In this example, the link can be scheduled on 4-Oct and 6-Oct but not 5-Oct.


#3 – Change History Category Plays
In the Change History tab in the Song/Link windows, we've added the Plays for each category assignment.


#2 – Link support in Selector2GO
We've added a new "2. Linker" section in Selector2GO so you can edit/add/delete links.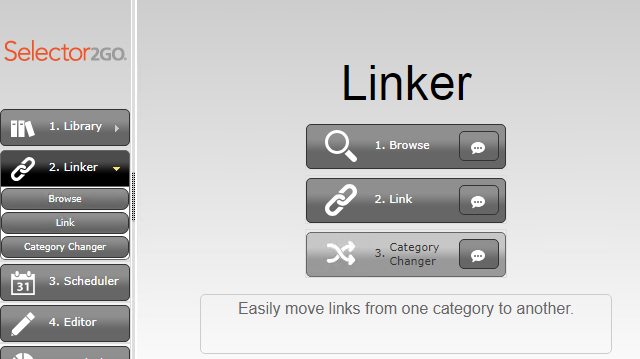 #1 – Inline Editing
You can now edit directly in the Library Browse grid. You no longer have to open the Song window to edit songs (or links). Click the last toolbar option or press the Spacebar (like in Selector Version XV) to start inline editing. Type directly in text fields or use the drop down controls to select the options. Click the last toolbar option again or press Ctrl + Spacebar to exit inline editing mode.