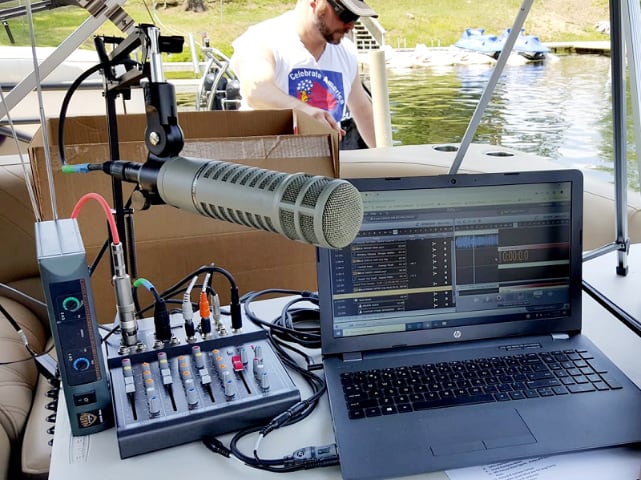 Summertime provides boundless opportunities for radio stations to do live remote broadcasts. What made a recent remote from Nisswa Minnesota's KBLB -B93.3 a bit different is that they used Zetta2GO to broadcast from a boat in the middle of a lake. As B93.3 morning personality Bill Satre explains, it was a logical choice. "We were doing the music for a 4th of July fireworks display over a lake. Since most of our listeners would be in boats, we figured we should be in a boat too. So we loaded up a pontoon craft with our remote gear, banners, flyers, lots of tee-shirts and other free stuff to give away and headed out."
Satre's remote setup included a classic RE-20 mic on a boom, a laptop with Zetta2GO, his Audio 2000 mixer and a Nady wireless mic AC power was supplied by an inverter connected to the boat's 12-volt battery supply.
Before doing the remote, Satre did a trial run with the remote gear from his own boat offshore from his cabin. The wireless connections worked, and he was ready for the Fourth.
Since Satre was incorporating interviews into the remote, he opted to do voice tracking, rather than broadcasting live, in order to have better control over the situation. He edited the interviews on his laptop using Audacity, and imported the completed audio file into the log on Zetta2GO.
It all came off without a hitch, although he cautions there are a few issues to be aware of when voice tracking a remote. "Be sure to allow sufficient time for files to upload. I tried to stay at least 5 minutes ahead. Files that were a bit too long did have issues with dropouts. When planning these remotes, it's essential to check that you have solid wi-fi, cellular and internet signals at the location."
Satre notes that Zetta2GO is a complete game changer for remote broadcasts. "Doing a remote the old way, there would be more bulky gear to lug around, and I'd be coordinating with a board op back at the studio, which doesn't always go smoothly. Zetta2GO gives me control of everything on site. I am my own board op."
Zetta2GO is the ultimate remote broadcasting tool. This mobile playout management system enables you to go live from anywhere you have a mobile connection, see the logs, adjust segues and record voice tracks that can be dropped directly into the log. It's also cross-platform compatible with any smartphone or tablet.
The success of the July 4th broadcast leaves Satre contemplating future remotes. Central Minnesota is a resort area with countless lakes, so there are lots of aquatic possibilities. "There's the Governor's Fishing Opener in the spring, and the ice fishing extravaganza during the winter, where we have 20,000 people fishing in a tournament." He adds that he is also looking forward to doing his first live remote with Zetta2GO.